Travel Time Tours Inc. has been servicing visitors to Central Florida with cheap theme park tickets and tourist information since 1989, providing a full range of services in the tourism arena.
It is a family owned business, started by David and Laurie Kelly soon after their arrival in Orlando.
Although their initial beginnings were in Resort Marketing, Dave and Laurie soon realized that there was a niche for the retail sale of cheap theme park tickets.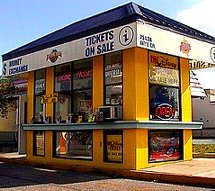 They subsequently added Currency Exchange and Accommodation Assistance to the list of services offered in an effort to better assist their customers.
Since 1990, the primary outlet for Travel Time Tours, Inc. has been at 7543A International Drive, (pictured right) in the heart of the tourist district.
This ideally situated spot is easily reached from any Orlando hotel, being conveniently located less than 100yds from Exit 74A off Interstate 4 .
GuideToOrlando.com, the Internet outlet for the company, went live in October 2001 and has been an instant hit with travelers from the USA and around the world seeking the best prices for theme park tickets.
The hours of business at this location are 8am to 11pm, 7 days a week.
For further information you can contact us via e-mail or call ++1-(407) 352 0203.