Central Florida is also home to the US space program at Kennedy Space Center where it is possible to tour the facility and even watch shuttle launches and landings.

Kennedy Space Center is also home to the Merritt Island National Wildlife Refuge which you will drive through as you tour the Center's various sites of interest.
Visitors to the Kennedy Space Center can now view the history and future of the Nasa Space Program on enormous 5.5 story IMAX movie screens.
Plan on spending a whole day at Kennedy Space Center if you want to see everything the Center has to offer.
Attractions include the new Apollo Center where you will see a full Saturn V rocket, lunar lander and rover vehicles and even get the opportunity to touch a real moon rock!
As well as the Apollo Center , which includes the original Mission Control from the Apollo missions, you can visit one of the old Saturn V launch pads and see the NASA labs where the International Space Station is being built and tour life-sized displays of parts of the station.
Kennedy Space Center also has space history exhibits, a life-size Space Shuttle display, bus tours, restaurants and gift shops.
If your visit coincides with the launch of the Shuttle or an expendable vehicle you can buy tickets to get a close up view from the Kennedy Space Center Visitor Complex.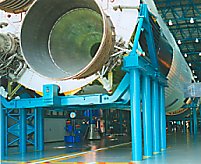 Kennedy Space Center is located about 35 miles east of Orlando International Airport in Brevard County, Florida.
NOTE: If you arrive at any time past six hours before a launch , you will find a guard stationed at the gate. If you do not have a car pass or other valid access authorization, you will not be allowed to enter the Space Center .