| | | |
| --- | --- | --- |
| | Insider Tips | |
Visit the Polar Bear exhibit during the Shamu show, the shorter line will make it a breeze to get in.
You might want to consider signing up for To The Rescue , a behind the scenes look at how sick or distressed animals are taken in, cared for and eventually released back into the wild.


Sea World is a must-see attraction for visitors to Central Florida. The list of breathtaking sights on offer is almost endless. Educational as well as entertaining, Sea World showcases some of natures most beautiful animals and is also very active in conservation and animal welfare. As well as seeing beautifully choreographed and spectacular performances by Sea World's dolphins and whales, you can get a close up view in the underwater viewing areas.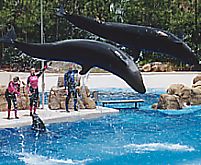 Visitors can also get close enough to pet and feed stingrays, sea lions and dolphins. You can also see polar bears, penguins, manatees and a host of other animals at Sea World. Thrill seekers are catered for with a few rides including a water ride and the amazing Kraken rollercoaster. Sea World also has shows, interactive and educational exhibits as well as gift shops and many, and varied, eateries throughout the park. If you see nothing else while you are in Orlando, visit Sea World. You won't regret it. Expect to spend at least a day there to see everything. We also recommend an early arrival and also that you stay to the end as some of the best stuff is only shown in the last couple of hours. Due to contract stipulations, these passes are only available for in-store purchase

| | | |
| --- | --- | --- |
| | Ticket Options for Universal Studios and Islands of Adventure | |
| | |
| --- | --- |
| 1 Day Admission | One day to enjoy Sea World, with "2nd Day Free" upgrade option. To receive this upgrade, simply take your ticket to Guest Relations inside the park on your first day of use. Both days must be used within a week of each other. |
See Also: Orlando FlexTicket Click Here to Order Tickets!