A visit to 'Gator Country wouldn't be complete without spending at least half a day at the Gatorland zoo.

Get close up to some of the 5,000 alligators in this modest (55 acre) yet clean and well run nature-themed park.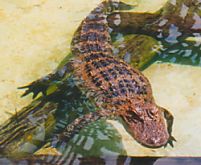 Gatorland was a working alligator farm which, with the University of Florida, is now involved in the research and the conservation of the Florida species.
Started as a road-side attraction in 1949 by cattle-rancher Owen Godwin, Gatorland has grown to be one of Orlando's most popular attractions.
For anyone wanting a break from the noise and glitz of other Orlando attractions, this low-key venue is ideal.
As well as 'gators and crocodiles you can see thousands of birds, snakes, emus and llamas to name but a few, watch alligator wrestling and ride the miniature Gatorland railway to see sights hidden from view in the main part of the facility.
Visitors can also walk through a swamp, untouched by man for thousands of years, and see what Florida used to look like.
Expect to spend at least half a day here if you wish to see all the attractions.
Try to arrive before mid-afternoon or risk missing some of the shows.
Gatorland is on Hwy 441 at the Orlando/Kissimmee line in South Orlando, 15-20 minutes away from Walt Disney World, Sea World and the Orlando International Airport.