Take advantage of our staff's local knowledge and let us show you where to go to relax after a hard day at the theme park.

Dining out, clubbing or seeing a show or concert? We know all the best places to go for all of this and more.

You can enjoy dinner, eaten using your fingers of course, and travel back in time to the days of knights and chivalry at Medieval Times in Kissimee.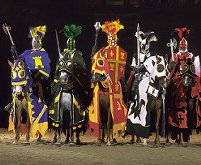 An Olde Worlde menu is served at Medieval Times in a climate controlled castle as you watch knights joust and palomino horses perform in the 70 yard long arena.
Don't expect historical accuracy, just good food and a lot of fun.
You could also opt for a swashbuckling meal at the Pirates Dinner Adventure .
After enjoying a meal in the domed arena you can enjoy the show which is a mixture of circus, pirate movie and musical.
The Pirates Dinner Adventure performance takes place aboard a pirate ship in the center of the foggy arena and includes, curiously, trampolines, basket ball and an aerial act. Of course, many of the cast also end up in the drink during this watery romp.
For those who prefer a touch of the exotic, Arabian Nights is the place to go.
Voted favorite dinner show year after year by Orlando residents, Arabian Nights has something for everyone although it will especially appeal to horse lovers.
The horses are put through their paces in a huge 20,000 square foot arena and riders perform cowboy stunts and chariot races.
We recommend staying after the show to watch the horses let loose to play in the arena. After show VIP visits to the stables can also be arranged.
If you like late night shopping as well as dinner and a show, Universal's City Walk is the place for you.
There are nine restaurants to choose from at City Walk including the world's largest Hard Rock Cafe.
Afterwards you can dance to jazz, reggae or rock music at one of the bars or take in a movie at the multiplex cinema or shop at one City Walk's twelve stores.